I bet you've heard that in order to achieve something in life, you first have to set a goal. However, this is no different when it comes to getting a job. Placing a good professional objective in the curriculum can change not only his own direction, which would be going into the bin, but the future of the professional who knew how to use it.
From this, it is clear the importance of inserting a professional objective in any curriculum.
What is a Professional Objective?
The concept of professional goal is simple: direct your resume to the desired position!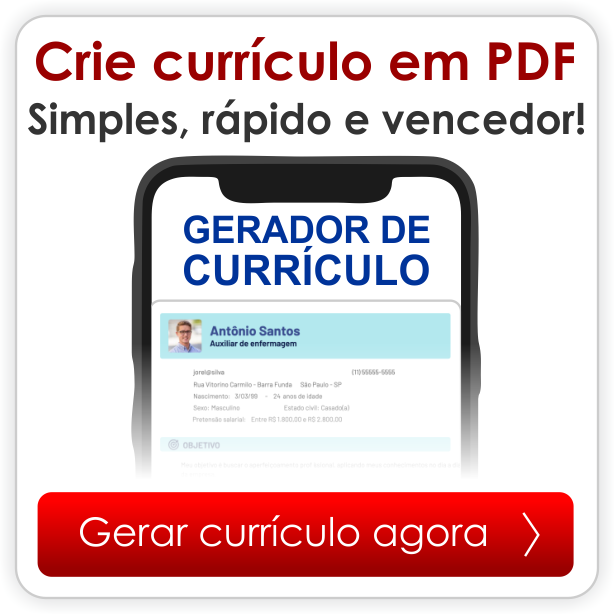 That is, if you have a resume profile focused on construction, it does not make sense to send it to the sales department. Therefore, the professional objective should be clear in order to direct you to the desired vacancy.
If you prefer, here's how to do a resume here.
How to put a professional obejective in the curriculum
In addition to personal information such as name, phone and address, the objective of the resume is one of the first things that the recruiter reviews. It should be inserted well at the beginning of the document.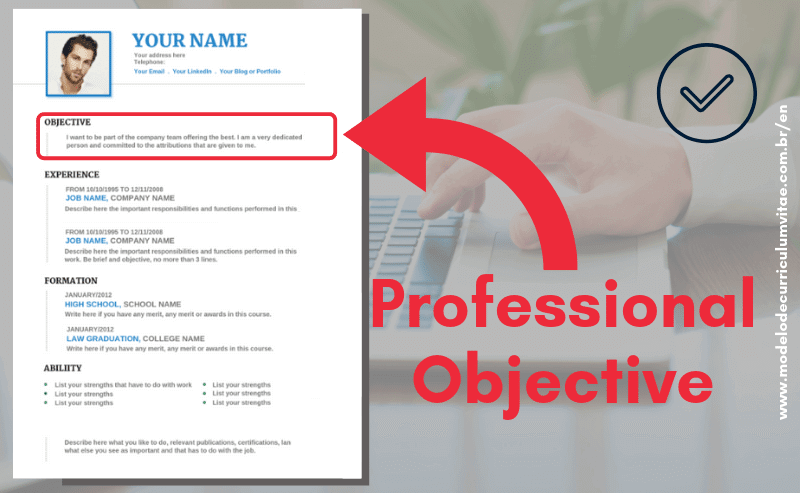 However, many people who are looking for a job vacancy end up failing to work out this important part of the curriculum.
So the next topic you'll see is 12 professional objective examples to inspire and streamline your resume!
12 EXAMPLES OF PROFESSIONAL OBJECTIVE TO PLACE IN THE CURRICULUM
I would like to be part of the staff of this company, where I can grow professionally. However, this in a productive way to the great development of this organization.
Contribute my skills to the benefit of this renowned institution. Being an effective part of the degree of employees, having commitment, respect and fidelity as main functions.
Acting in this sector will further expand my knowledge, professional development and life. Thus, always in harmony with the quality of my work and the preparation of my days in order to obtain the expected success in the act of my contracting.
In search of an opportunity to develop and improve my knowledge. And therefore, something that can instruct me in an increasing and continuous way, always aiming the growth between me and the company.
Professional growth is one of my goals within the company, fulfilling the function I am assigned to. Above all, by applying biosafety standards and by ensuring the health, integrity and safety of alltrabalhadores, bem como, o crescimento em equipe.
Work in the company as the XXX function, where I am able to exercise by my qualifications obtained in my graduation and X in previous professional experience.
I am looking for an effective in the market with the intention of putting into practice what I have already learned throughout my time as a professional. Primarily, developing my skills and contributing to the growth of the company.
I am seeking a position in the market where I can put my skills into practice and collaborate with work teams. Having the growth of organization and personal and professional development as main focus.
I am looking for new professional challenges, seeking to be effective in the market, aiming the development of work and of course, generating results. Thus, to achieve concretizing the way to enable this qualitative and quantitative growth to the company.
I am looking for new professional challenges and experiences. These, which can add value to the skills that I acquired throughout my course at institution xxx.
I want to be part of the "Company Name" group of collaborators. Because I identify with this methodology of work and want to grow in conjunction with the growth and development of the company.
I am looking for new challenges that can add value and experience in the practice of my profession. And, above all, I respect goals, deadlines and schedules.
TIP:
At the time of writing your resume, separate a little time to analyze and choose which area it will be addressed. Inspire yourself in these examples cited above to develop your professional purpose.
Remember to be creative and, above all, professional.
Download now, 10 curriculum vitae templates.