Getting a job is one of the most difficult tasks a person can encounter throughout his or her life. A resume is a document that serves as a facilitator so that access to the job opportunities to be offered or desired by the employee. But it is always good to have another document that guarantees your entry and stay in the new job, and this is the cover letter.
This instrument is a personal message that accompanies your resume is not always a requirement of companies to enter the job market.
But as it is often desired by managers in the most varied areas of professional activity, it is interesting that you know what exactly a cover letter is and how to use this document to your benefit.
Writing the cover letter
Generally, the cover letter brings around 150 to 500 words about the candidate. So, it comes to offer data like:
Who is the person?;
What are your professional skills?;
Professional Interests;
Experiences;
Motivations
And other information, especially all about what prompted the candidate to seek that particular job.
So you can write your cover letter, choose a quiet place, be relaxed and comfortable and think about its features as a professional in your area.
Detail all your skills, facilities or approach with the tools that will be used in the new wave, where you acquired this experience, among other details.
Also talk about your intentions with admission, above all, passing personal values and goals both in the company and in the future.
Publicidade

But remember:
Be objective and direct when presenting by letter, never writing in large quantities and ensuring that interest is not lost as soon as the interviewer receives your presentation.
What should the Cover Letter contain?
The best tip of this document is that you should describe yourself quickly and interestingly. Note that the information that will be contained in the text may vary according to the company in which you will attempt a vacancy.
What to put in the Cover Letter
Qualities;
Skills;
Professional Interests;
Availability of schedules;
Availability to improvement;
Reference to vacancy or company;
Objective in the organization, among others.
Other documents may be required for the acquisition of a new job. In addition to the cover letter and curriculum, you may be required to:
Social Security Card
Work record booklet, entre outros documentos.
However, it is necessary that the applicant seeks this and other information for the vacancy in which he wishes to be inserted.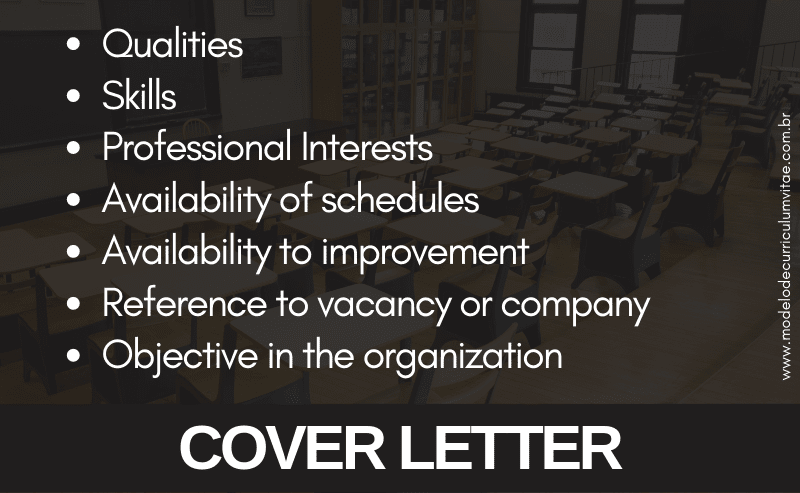 So that you can prepare in a more relaxed and interesting way for your future job openings, check out an Cover Letter Examples at the end of this text. Never forget your cover letter next to your resume when interviewing a new job.
Cover letter X Letter of professional recommendation
There are differences between these two types of documents.
The cover letter is taken as a short introduction to the resume, in return the professional letter of recommendation is issued by the applicant's previous employer.
However, regardless of whether the employer is an individual or a legal entity, he will attest that the candidate in question obtained professional experience with his institution and the positive points that marked the passage of the previously occupied workplace.
In summary, the qualities of the worker will be signed and the professional recommended for the hiring of other companies.
Practical example of original letter
Dear Sirs,

In search of a new proposal of work in the area (fill your area of interest) I present my curriculum attached.

Among my basic characteristics are: adaptability, good humor, dynamism, responsibilities, perfectionism, self-demand, dedication to work and good relationship in general.

I also inform that I am available for travel, according to the need of the organization.

While waiting for your contact, I am at your disposal to provide you with further clarifications.

Graciously,

(fill in full name and signature)
See also, how to prepare for the job interview and secure your vacancy here!