In order to excel in the job market it is necessary to draw attention, but in a positive way. A good strategy used by most candidates called the interviews is to have a resume profile in the curriculum.
With rising unemployment in the country, certainly, competitiveness increases. Companies are receiving more and more resumes and eventually yours can be thrown into the corner.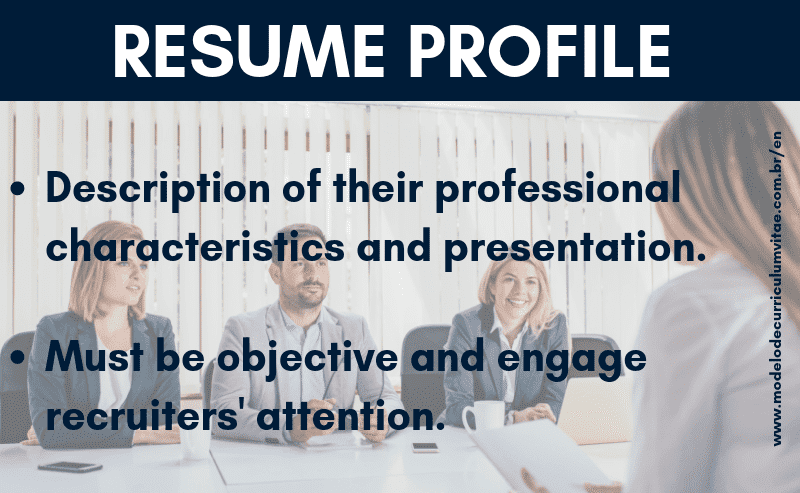 However, by using this valuable tool, resume profile, you can increase your chances of hiring. This tip is valid for several positions, including young apprentice.
If you prefer, see how to make a top resume in 3 minutes.
What is resume profile?
It is usually used to show the recruiter the type of professional he or she is dealing with, if, for example, he is proactive, organized, work in teams, and so on.
Therefore, this topic should be inserted at the top of the curriculum, close to the professional objective and personal data.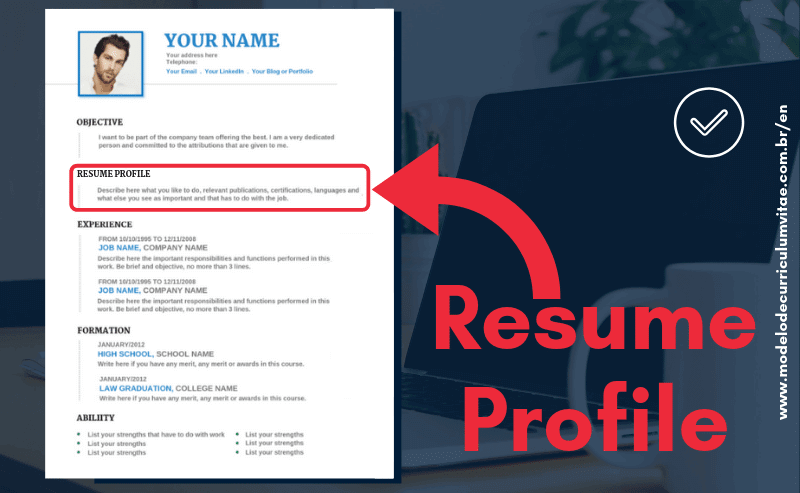 Next, you will see 23 resume profiles examples to include in your resume. Build on what suits you the most, and no doubt, enter the job market!
Tip: Curriculum Vitae Template First Job, download now.
Publicidade

23 RESUME PROFILE EXAMPLES TO PLACE IN THE CURRICULUM
Resume Profile Examples
1 – With ease in communication, I can take leadership roles and lead teams.
2 – Besides graduation, I worked in several positions in the area and brought good theoretical and practical experience.
3 – I am looking for a high level of adaptation, following market transformations.
4 – I am proactive and adapt easily to new demands and innovations in the market.
5 – I graduated in the area of X and, in addition, qualified myself with specific courses in the areas of: XXXX
6 – I work easily in high pressure functions and I am punctual with deadlines.
7 – I am constantly in search of training and, besides graduation, I have taken courses in the following areas: XXXX e XXXX
8 – I see leadership as an important point to success and I know how to lead teams.
9 – My background encompasses large projects and the involvement of many professionals.
10 – I have always had the recognition for the commitment and relationship with clients and teams.
11 – I know how to interpret the demands of the clients and conduct them in a balanced way with the ideas of the company.
12 – I see the company as a second home and try to create a positive and productive environment.
13 – I work in constant search for innovations and optimization of processes.
14 – I have a positive track record in qualifications and I look for excellence in any professional activity.
15 – In previous work, in the areas of XXXX, I presented positive results and helped build successful models.
16 – I seek to unite my knowledge to the team and create a positive and high standard.
17 – Além da bagagem teórica da graduação e cursos complementares, sempre busco opções práticas viáveis e lucrativas.
18 – In addition to the theoretical baggage of undergraduate and complementary courses, I always look for viable and profitable practical options.
19 – Often recognized for innovation, commitment, excellent customer relationships and flexibility.
20 – Recognized throughout my career by professionalism, steep learning curve and, as well, by the results obtained.
21 – Excellent analytical, reasoning, writing, budgeting and information technology skills.
22 – Proven leadership, interpersonal skills, and change management.
23 – I see challenges as opportunities to create new solutions and thus optimize processes.
TIP:
However, it is worth remembering that these are just EXAMPLES of a resume profile to put in the curriculum.
So, when it comes to producing your own, separate a little time and analyze what you think is most important. After all, originality is the main key to producing an interesting and engaging resume.
And yet, do you know how a job interview works? See the tips and be prepared to secure your place!